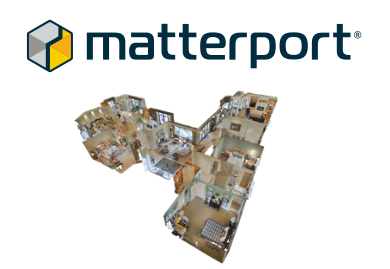 With the Mapme Integrated Media feature, you can easily add advanced media like 3D, 360 and VR on an interactive map.
One of the great services supported is Matterport Space, a popular service for 3D tours.
What is Matterport
A Matterport Space is a full 3D representation of a real-world location that can be visited on a desktop or mobile web browser. You can also experience Matterport in virtual reality through VR devices such as Samsung Gear VR, Google Cardboard, or Google Daydream.  The Matterport Space are created using a special 3D camera sold by Matterport.
Who uses Matterport
Matterport 3D models of real spaces are primarily used in the real estate industry for property marketing, construction, facilities management. However, it is also used for news, entertainment, and tourism. The range of applications and use case scenarios for 3D virtual tours is constantly increasing.
High-quality 3D real-world models are not just a cool gimmick. They drive traffic, increase engagement and conversions.
3D tours for real-estate
"Virtual tours" have been around for a long time but until recently they were simply not good enough to be used professionally for real-estate applications.
Over the last few years, Matterport Space has become increasingly popular among real estate agents. The 3D tours take potential customers through a property in an extremely realistic way that mimics real life. The 3D real estate tours let buyers move through a property. It's the closest thing to actually being there in person.
Matterport and Mapme – the perfect match
The Mapme 3D maps provide the perfect context for the Matterport 3D tours. With the 3D maps, the users can browse from location to location, zoom in and out to get as much context or details they need before viewing the Matterport 3D tours. Furthermore, the map can include additional media such as audio, regular video or even other advanced media such as 3D models from Sketchup.
You can easily add your Matterport Spaces in Mapme. Simply enter the Matterport Showcase URL in the integrated media section. You can add one or even multiple Matterport Spaces for each location.
Click Here to see an example of a map with Matterport Spaces