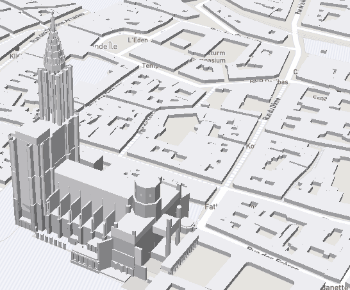 With Mapme, you can easily display 3D buildings on maps. You can choose to show all the buildings in 3D or select specific buildings. Here are a some of the benefits that might just convince you to add 3D buildings on your maps:
Provide an immersive experience with a stunning visual effect
Highlight specific building(s)
Give additional information to understand the context on the ground
The display of Mapme 3D buildings is very efficient. The building layer loads quickly and requires minimal computing resources. As a result, it does not affect performance on low power mobiles and desktop devices.
In order to keep performance high, there are limitations to the level of details that are included in the 3D buildings. For example, windows, wall texture and roof shapes are not displayed.
However, we are working on solutions to provide high details levels for specific 3D buildings.
Which buildings are available in 3D?
Mapme leverages OpenStreetMap data to display the 3D buildings layer. OpenStreetMap 3D building data is enriched by thousands of contributors around the world.
The building coverage is very extensive and keeps improving. Typically large cities have better coverage than rural areas. Additionally, some buildings might be very detailed while others might only show basic 3D shapes.
Can I add buildings that are missing?
Yes, absolutely. Everyone is welcome to contribute and add building data. You can add new 3D buildings or enrich the details of existing buildings.
How do I add buildings?
You add buildings using one of the OpenStreetMap editor. We recommend starting with the  iD editor because it is simple to use and does not require any software installation.
You don't need to be a civil engineer or an architect to learn the trade.There are a lot of good resources on the web. In addition, we also provide webinars to teach the basics of adding 3D buildings in OpenStreetMap.
However, if you don't want to do it yourself, Mapme offers a service to add or enrich specific 3D buildings.
How long does it take for 3D buildings to appear?
After you add or update a building in OpenStreetMap, it usually takes a few hours for the changes to appear on your Mapme map. If the changes did not appear after 24 hours, feel free to contact us and we will look into it.
Examples of 3D buildings use cases
Here are some examples of common use cases for 3D building display.
Portfolio maps
Portfolio maps are used to showcase construction projects or properties owned or managed by a real estate firm. Displaying specific buildings 3D is a great way to highlight the properties in the portfolio. See example

Neighborhood guides
Neighborhood guides are used to highlight amenities in the vicinity of property for sale or lease. It is a powerful marketing tool for both commercial and residential real estate firms. With 3D buildings, potential customers get a much better feel for the property and its surroundings. See example.

City guides
With city guides, you can highlight points of interest in a city. With 3D buildings, the maps users can easily find their way around while looking at the map on a mobile device. See example

Best practices to display 3D buildings on your map
For the best visual effect, we recommend showing 3D buildings with the map tilted at a 40 to 60-degree angle. Learn more.
In a dense urban area like Manhattan New York, we recommend showing specific buildings. Learn more.
Need help. We are here to support and help all of our customers via chat, email, and webinar.